Pacifica Hybrid Explained
Chrysler pioneered the modern-day minivan more than 30 years ago and has been refining and improving that type of vehicle ever since.
There must be something about being the first in a segment because Chrysler is the first OEM to launch a hybrid minivan, the 2017 Pacifica Hybrid.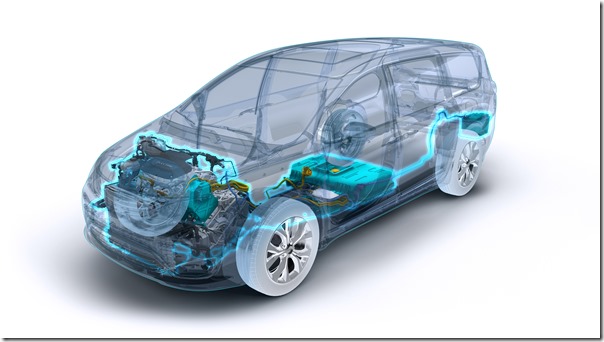 The minivan features a 3.6-liter V6 running on the Atkinson cycle. While the Pentastar engine is familiar to many, FCA engineers developed what is fundamentally key to the vehicle: the two-motor eFlite electrically variable transmission (EVT). While there are other EVTs in hybrid transmissions, generally one motor drives the wheels and the second motor works as a generator to charge the battery. (In the case of the Pacifica Hybrid there is a 16-kWh lithium-ion battery stored in the floor by the second row of seats, where the container for the Stow 'n Go seats would otherwise be located; consequently, there is no compromise in terms of space for the Hybrid as compared with the non-hybrid Pacifica).
The eFlite EVT setup includes a one-way clutch that permits the motor that would otherwise be used only as a generator to actually drive the wheels, assuming that it is required.
To get a more in-depth look at the architecture of the hybrid in the Pacifica Hybrid, on this edition of "Autoline After Hours" Kevin Mets, chief engineer of the Hybrid, provides details.
And because it is clear that this isn't a one-off electrification endeavor, we are also joined by John Gibson, global chief engineer, Electrified Powertrains, FCA.
Mets and Gibson provide the inside story on the development of this vehicle and talk about the benefits of electrification.
On this show I am joined by Alicia Priddle of Motor Trend, Jean Jennings of Facebook.com/JeanKnowsCars and Anton Wahlman of Seeking Alpha.
If you want to get insights into the Pacifica Hybrid, and hybrids and EVs in general, you don't want to miss this show.
And you can see it right here:
RELATED CONTENT
Topology optimization cuts part development time and costs, material consumption, and product weight. And it works with additive, subtractive, and all other types of manufacturing processes, too.

Great material savings can be achieved when high temperature-resistant bags are used for reverse masking in paint shops for getting two-tone paint jobs done. Here's how it is done.

According to Kunihiro Hoshi, chief engineer for the GX 470: "Three of my top goals were to create a body-on-frame vehicle with sweeping off-road performance and unibody-like on-road capability, and, of course, it had to meet the Lexus quality standard." He met his goals. But why would anyone want to bang this vehicle around on rocks?